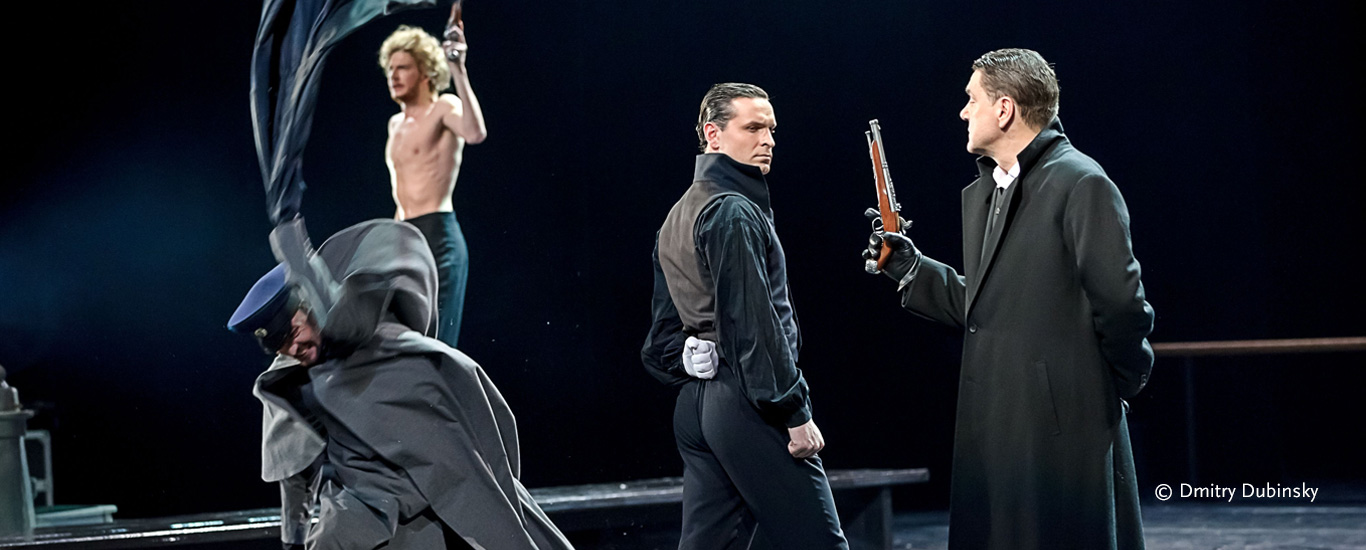 Venue: ZORLU PSM TURKCELL STAGE
Dates:
21 NOVEMBER THU. 20.00

22 NOVEMBER FRI. 20.00

Lasts app. 205' with an intermission.
Russian with Turkish surtitle.
Tickets: 300 / 250 / 180 / 120 / 90 TL, Student: 15 TL
EUGENE VAKHTANGOV THEATRE
Collaboration with Golden Mask Russian Performing Arts Festival and Istanbul Theatre Festival
"Golden Mask in Istanbul" programme
Novel by: Alexander Pushkin
Concept, Composition and Staging: Rimas Tuminas
Stage Design: Adomas Jacovskis
Costume Design: Maria Danilova
Music: Faustas Latenas
Choreography: Angelica Cholina
Lighting Design: Maya Shavdatuashvili
Music Director: Tatiana Agayeva
The breath-taking passion of an exiled writer: Eugene Onegin. Pioneer of the freedom-loving Romantic generation of the 1800s and founder of modern Russian literature, Alexander Pushkin was called "the beginning of all beginnings" by Maxim Gorky...
According to a rumour, Pushkin's mother was the grandchild of an Abyssinian prince who was sold at the slave market in Istanbul. Perhaps the story of Eugene Onegin begins right at this point. Pushkin was raised by a mother who was grateful to Russian culture, and a nanny who conveyed this culture to him through folk tales... And he brought together what he heard from them in Eugene Onegin. Eugene enamoured with his disillusions, Lensky in pursuit of his dreams and the endearing Tatyana who embodies all the qualities of Russian women come together in this work that took the writer seven years to complete...
Pushkin's revolutionising narrative has been transformed with the performances of the famed Vakhtangov Theatre's actors, and by Rimas Tuminas bestowing the characters of the novel with memory and imagination. The Times has praised Eugene Onegin as "epic yet intimate, and stunningly beautiful; it's also hefty and occasionally bewildering". By placing Tatyana in the centre of the story, Eugene Onegin has delivered this compassionate Russian woman the attention she deserves. Tuminas' passionate rendition of Eugene Onegin reflects the powerful reality and imagination of Pushkin through magnificent choreography.