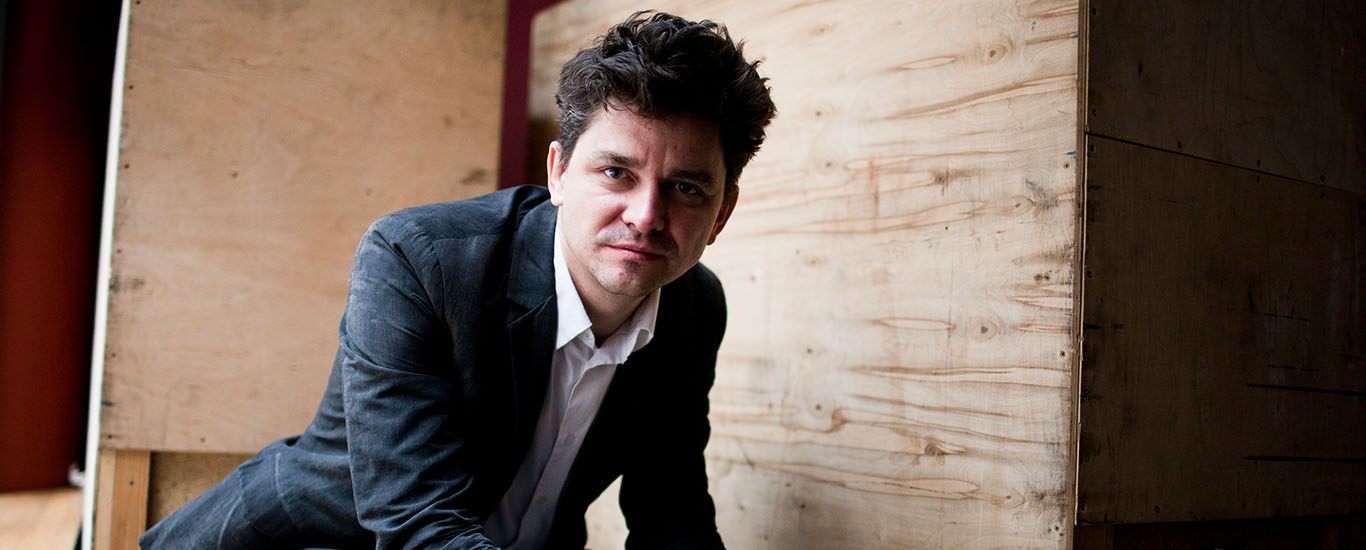 Since his debut in 1997, Grzegorz Jarzyna is counted among the most important stage directors in Poland. His work has revolutionised Polish theatre and has received widespread international recognition. In 1998 he became Artistic Director of Warsaw based Teatr Rozmaitości which he turned into TR Warszawa - one of the most innovative and progressive theatres in Europe.
Jarzyna has staged classical dramas reinterpreted in a bold and innovative way (The Tropical Craze based on Witkacy's two plays, Magnetism of the Heart based on Aleksander Fredro's Maiden Vows), adaptations of famous European novels (Doctor Faustus by Thomas Mann, The Price Myshkin based on Dostoyevsky's The Idiot), world-famous contemporary dramas (Unidentified Human Remains by Brad Fraser, Sarah Kane's 4.48 Psychosis staged in Warsaw and Düsseldorf), as well as operas (Prokofiev's The Gambler at the Opera de Lyon, Maurice Ravel's The Child and the Enchantments and Alexander Zemlinsky's The Dwarf at the Bavarian State Opera). He is renowned for combining different art forms and genres, which is reflected in such performances as 2008: Macbeth - a movie-like adaptation of Shakespeare's drama which takes place on four different sets or Giovanni based on Mozart's Don Giovanni and Moliere's Don Juan – a performance combining theatre and opera. He has authored several adaptations - two plays: Medea Project and Areteia and two librettos for Zygmunt Krauze's Yvonne, Princess of Burgundy and The Trap. He has also directed TV versions of his performances: The Tropical Craze, 2007: Macbeth and most recently No Matter How Hard We Tried as well as a TV theatre History according to Gombrowicz.
Jarzyna's international reputation has been proved by several invitations to various festivals and guest performances in Europe and all over the world i.a. in Avignon, Edinburgh, Moscow, St. Petersburg, Jerusalem, Berlin, Munich, Vienna, Stockholm, Paris, London, Dublin, Tel Aviv, Toronto, New York, Los Angeles, Sydney, Adelaide, Wellington and Hong Kong. In June 2008, his Macbeth was staged in New York, where a special stage was built under the Brooklyn Bridge and in 2012 it opened the Edinburgh Festival.
Grzegorz participated in the Odyssey Europe project developed within the framework of The European Capital of Culture RUHR 2010 staging his adaptation of Odyssey - Areteia at the Schauspiel Essen. The same year, he has directed Jean Racine's Phaedra at the Toneelgroep Theatre in Amsterdam. His most recent performances at TR Warszawa include award winning plays T.E.O.R.E.M.A.T. based on Pier Paolo Pasolini's work and No Matter How Hard We Tried by Dorota Masłowska, which premiered in Schaubühne am Lehniner Platz in Berlin as well as Nosferatu inspired by Bram Stoker's Dracula.
Grzegorz Jarzyna has received many awards and distinctions i.a. the Polish Foreign Affairs Minister's award for special merits to Poland in the world (2002), the Golden Order on the occasion of the 300th anniversary of Sankt Petersburg (2004), the Nestroy-Preis - one of the most prestigious awards of the German-speaking Europe which he received for his Medea staged at the Burgtheater in Vienna (2006). In 2013, he was awarded the Knight's Cross of the Order of Polonia Restituta by President Komorowski. He was also awarded twice the Konrad Swinarski Award for the Best Director (1999 and 2009).