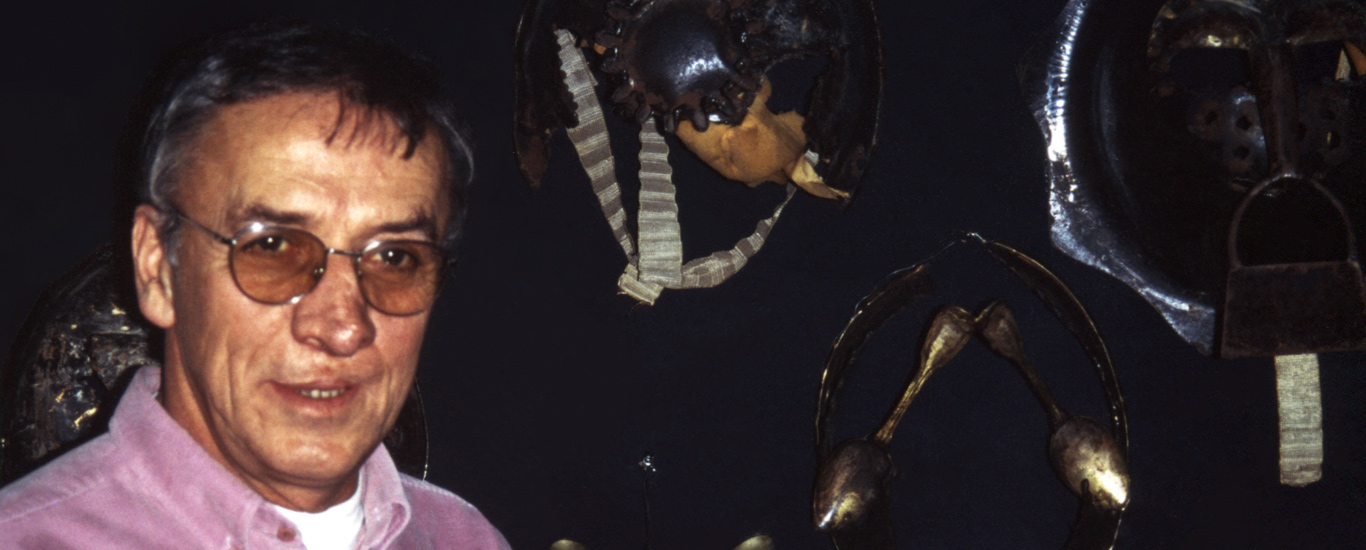 Stage designer Metin Deniz, born in Istanbul in 1940, is an artist who uses a wide variety of materials in his work. After studying at Haydarpaşa High School, Deniz entered the Department of Painting at the Fine Arts Academy (now Mimar Sinan University) in 1957 and became a student of Halil Dikmen, Cevat Dereli and Zühtü Müridoğlu. In 1961, he started working as an assistant decorator at the Istanbul City Opera. His first stage design was for Orhan Kemal's play İspinozlar (The Finches), directed by Zihni Küçümen in 1962 at the Istanbul City Theatres. During the same year, he became the decorator of the opera and continued to work there throughout his education. He graduated from the Academy in 1965, left the Opera and began working as a decorator in private theatres. In 1974, he participated in the establishment of Deneme Sahnesi, a new theatre attached to the City Theatres, founded with the support of Muhsin Ertuğrul. At this new theatre, working together with Beklan Algan, Metin Deniz tried to eliminate the usual sense of the stage and create a space where the mutual exchange between the actors and audience was made possible. At this theatre, he has worked on Brecht's Mother Courage and Her Children, Peter Weiss's Marat/Sade and Shakespeare's A Midsummer Night's Dream. In 1975, he tried out directing by staging Brecht's Life of Galileo at the City Theatres.
Metin Deniz has prepared the stage decorations of several plays in France, most of which were staged by Mehmet Ulusoy. He has also worked with Gerard Gelas at the Avignon Festival, including in plays such as The Caucasian Chalk Circle in 1974, Dans les eaux glacees du calcul egoiste in 1977, and Macbeth in 1979. Deniz has also prepared the decorations of One Thousand and One Nights directed by Luiz Menase in Paris in 1980, and Yaşar Kemal's Legend of The Thousand Bulls directed by Gerard Gelas in Avignon in 1984. Throughout his art life, Metin Deniz has stated that the decor in theatre should be given a meaning above that of decoration, which is associated with "ornamentation". He approached decor as one of the integral elements that makes up a theatre play; and has maintained that in order to achieve a play with integrity, it is necessary for everyone who realizes these elements, from the director to the musician, from the actor to the decorator, to carry out a collaborative work, in other words, that they create the theatre jointly. Given this point of view, it is easy to see in Deniz's work that he strives to evoke different effects by using a wide variety of materials. For example, for Sabotaj Oyunu staged at Dostlar Theatre, he made masks by heating old gramophone records, and for Alpagut Olayı, which was a play staged at the same theatre about the events at a mining quarry, he created the decor by covering the whole scene with coal. As a similar artistic trial, he has used ropes and pieces of cloth for the décor of A Midsummer Night's Dream. Metin Deniz has prepared the decors of almost 200 theatre, opera, and ballet scenes. In 1982, he opened an exhibition where all of these works were gathered together called 'İki Kalas Bir Heves' (Two Wooden Boards, Enthusiasm in Hoards) in the Osman Hamdi Halls of the Academy of Fine Arts. He has been invited as a guest artist to France, Switzerland and England and has also worked as an art consultant and assistant director for various films.
In recent years, Metin Deniz has been working on the design of theatre stages and theatre hall interiors, and museum furnishings and designs. (Caddebostan Culture Center, İzmir Art, Culture Park Archaeology Museum Project, City Archives Museum, Fulya Art Concert Hall, Mustafa Kemal Culture Centre etc.)
Deniz has designed the stage and theatre hall interior design of Süreyya Opera House in Kadıköy, and the design and realization of Mardin Sakıp Sabancı City Museum. He continues to work on cultural centres, international exhibitions and museum projects. Metin Deniz has a book written about him by Nihal Koldaş titled Metin Deniz, Tiyatroda Mekân ve İnsan.
His most notable works include İspinozlar (The Finches, 1962), Teneke (Tin, 1965-1966), The Overcoat (1966-1967), Kurban (Sacrifice, 1966-1967), İttihat ve Terakki (1969), Stop The World, I Want To Get Off (1970), Les Rosenberg ne doivent pas mourir (1970), Alpagut Olayı (The Alpagut Incident, 1974), The Caucasian Chalk Circle (1974), The Life of Galileo (1975), Dans les eaux glacees du calcul egoiste (1977), Mother Courage and Her Children (1978), Marat/Sade (1978), Macbeth (1979), One Thousand and One Nights (1980), A Midsummer Night's Dream (1981), and Cabaret (1983-1984).