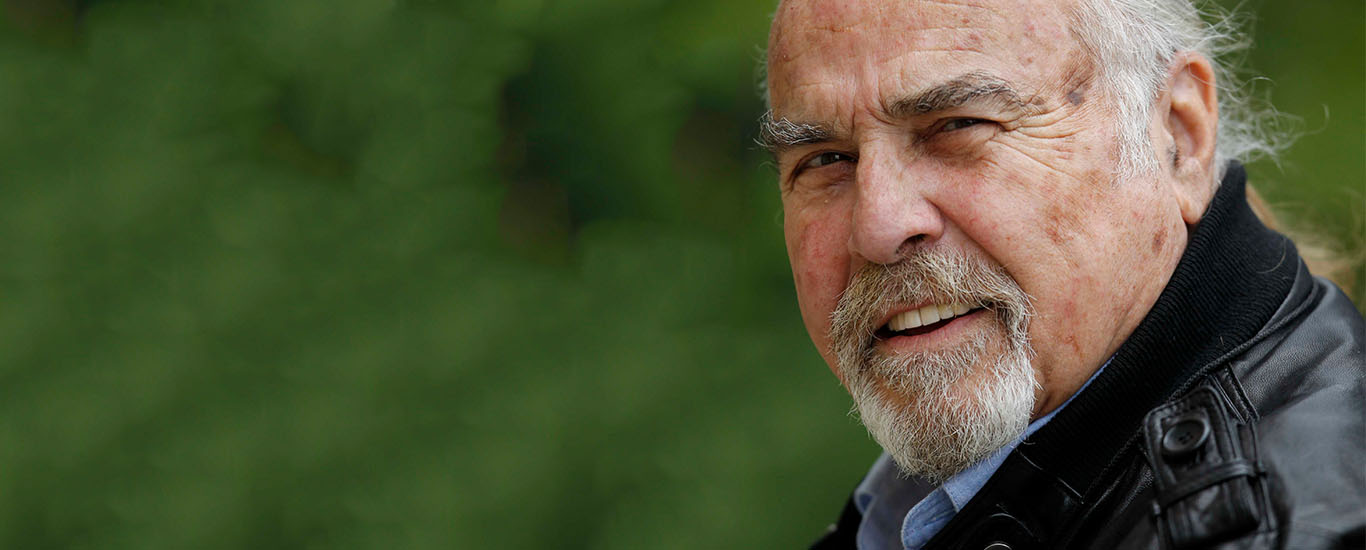 Özdemir Nutku was born in Istanbul on 12 January 1931. He entered the Robert College in 1942, right after elementary school and studied there for eight years, graduating with a BA degree in 1950. He started the piano when he was seven and gave his first and last classical music concert in 1949, after which he switched to jazz. He founded a jazz quartet in the 50's and made a name as a jazz musician. Özdemir Nutku started developing a passion for theatre during his high school years: He acted in various plays in the school's drama club. He made his professional debut with Franz Lehar's The Merry Widow operetta at the Kadıköy Süreyya Hall in the season of 1946/47.
After moving to Ankara with his family, Özdemir Nutku attended the Ankara University Law School for a year; then transferred to the Faculty of Language History and Geography Department of English Language and Literature in the same university in 1952. The other passion he had started developing in his high school years, poetry came to fruition in 1950 with the publication of his first poetry book Eller (Hands). He graduated from the Ankara University in 1956 and went to Göttingen to study drama at the Georg-August University on a scholarship. During his time in Germany, until his graduation in 1959, he worked as assistant to Heinz Hilpert, Artistic Director of the Göttingen State Theatre, for three years and also staged plays in various private theatre companies in Germany. He attended Prof. Boetticher's advanced music lectures for two years.
Özdemir Nutku returned to Turkey in 1959 and took up the post of assistant in the Institute of Theatre at the Ankara University Faculty of Language History and Geography. His first book on theatre, entitled Theatre and Author was published in 1960. He got his PhD in 1961, became an associated professor in 1967, and finally acquired the title of professor in 1974. He settled in İzmir in 1976 and founded the Department of Theatre within the Fine Arts Faculty.
Özdemir Nutku has written 49 books on theatre theory (some of them yet unpublished) and has published 104 books, including 36 translations, 4 poetry books, 12 plays and adaptations, 2 screenplays, and 1 children's book. He has over 1800 researches, reviews, and essays published in art and literature magazines since 1953; he is known for his articles regularly printed in the newspapers Pazar Postası, Yenigün, Öncü, Vatan, Meydan, Hürgün, Milliyet, Cumhuriyet and Hürriyet, as well as the magazines such as Seçilmiş Hikâyeler, Mavi, Şairler Yaprağı, Dost, Tiyatro, Varlık, Yeditepe, Oyun, Tiyatro 70-80, Değişim, Milliyet Sanat, Hürriyet Gösteri, Sanat Olayı, Ulusal Kültür, Milli Kültür, Tiyatro-Tiyatro, Agon, Tobav Sanat, Tiyatral, Sahne, Ünlem, Ada, Tiyatro Araştırmaları, State Theatre Magazine, and State Opera and Ballet Magazine.
He gave lectures and seminars and held workshops at the American universities, including the Yale, Washington (Seattle), Chicago, Pittsburgh, Northwestern, Minnesota, Southern California, UCLA, Carnegie, and North Carolina in 1965. He taught at the Vienna University Institute of Theatre for two semesters in 1966. He gave an advanced acting seminar to an international group of experts at the West Sydney University in 1991. He held a two-week acting workshop for American and Swiss students at the Hartt School of Music and Performing Arts in Connecticut in 1997. He is a regular contributor to the Encyclopaedia of Islam printed in Holland and the one in Turkey, as well as to the World Encyclopaedia of Contemporary Theatre in Canada. He represents Turkey in many international congresses.
Besides his academic career as a professor of directing, Özdemir Nutku is a renowned director, too who has staged hundreds of plays. He has first and second prizes at numerous international theatre festivals. His research book entitled, Meddahlık and Meddah Hikayeleri won the Grand Literature Award of the Foundation of National Culture in 1979. He won the Ulvi Uraz Directing Award in 1984 with his production of Güngör Dilmen's play Midas' Ears. He was bestowed the Award for Contribution in Theatre by the Theatre and TV Writers Association in 1989, for his contribution in Turkish theatre and for his efforts in promoting the Turkish theatre abroad. As a founder member, he was elected on the Governing Board of the World Theatre Education Institute during the Theatre Summit in Vienna in October 1990. He was appointed the General Artistic Director to the İzmir City Theatre, which he founded in 1990. He started the first Truck Theatre in Turkey and established the touring children's theatre in 1991, taking theatre to children who had never seen one before. He received the Dionysus Award of the Salihli Municipality in 1991. He was honoured with the Theatre Researches Grand Award by the Ministry of Culture in 1993.
Özdemir Nutku held the posts of vice dean and dean at the Fine Arts Faculty. He retired due to age limit from his posts in Dokuz Eylül University as the Director of the Institute of Fine Arts and the Head of the Performing Arts Department on12 January 1998. He continued teaching at the same faculty for two years until 2000, when he went to North Cyprus to found the Faculty of Performing Arts in the Near East University. He held the title of Founding Dean in this faculty and taught there from October 2002 to November 2019.
Özdemir Nutku died in 8 November 2019.